After surviving the Excessive Machine, Barbarella ends up in the bedroom of the Queen of Sogo.
The pair manage to escape and free the blind angel, Pygar.
However, unskilled in piloting the alien craft they are traveling in, Barbarella crashes the ship, and in the ensuing confusion, the Queen escapes...
This multi-part comic strip was turned into a graphic album, and then adapted into a feature film starring Jane Fonda in the title role.
Barbarella wouldn't have a
new
adventure until 1974, when
Wrath Of The Minute Eater
was published in France.
Two more graphic novels,
False Moon
aka
Moon Child
(1977) and
Storm Mirror
(1982), have appeared since.
Of the three sequels, only
Moon Child
is available in English in a presently OOP graphic novel.
There are no current plans for any English-language reprints.
Nelvana Animation, proposed doing an animated series during the 1990s, but no network was willing to finance it.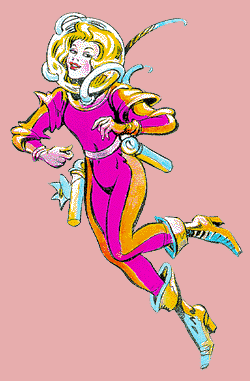 Proposal art by Jean-Claude Forrest
Robert Rodriguez (Sin City, Machete) had a movie remake in development, but it died in 2009, and no one else seems interested...